BMCC Library Databases
Off campus access is the same username and password that you use for your BMCC e-mail.
Don't know your username?
It is the same as your full email address including the @stu.bmcc.cuny.edu. For most students the part before the @ symbol is firstname.lastname
For example your email address would look like this: jane.doe@stu.bmcc.cuny.edu
If you have not set up an account or need to reset the password, go to Account Self Service via the BMCC portal.
Fill out all the personal information and click submit.
Create a password and click submit.
You will be taken to a page that shows just the part of your BMCC email before the @ symbol or jane.doe.  Remember to enter jane.doe@stu.bmcc.cuny.edu when logging in to a library database! 
Write down your user name and password and click submit.
Still having trouble?
If you still can't log on, try CUNY Databases or contact the Student Helpdesk in person (S141) or by phone (212.220.8379).
Faculty and staff can call extension 8379 for assistance.
CUNY Library Databases
To access:
Be sure your library card number on your BMCC ID is activated. If you've checked out a book recently your card IS activated. Otherwise, stop by the Circulation Desk in the Library to activate it.
Visit the CUNY Databases page. In the pop-up window, enter your 14-digit BMCC ID barcode number, which is found on the back of your ID card. It starts with the digit 214.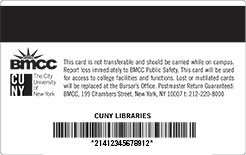 ---